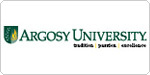 Selected School: Argosy University
Description: 

At Argosy University, we offer flexible online programs in business, education and psychology. Argosy University has established campuses around the country and supports one of the largest graduate student communities in the nation. As a student in one of our online programs, you will enjoy a collegial, supportive academic environment.




Our academic approach emphasizes teaching and practical training that builds on your expertise to advance your career. Our interactive classes are taught by seasoned faculty members in a small class setting. We offer a professional education built on a rich academic heritage




Argosy University,Online Programs address

2233 West Dunlap Ave. 

Phoenix, AZ 85021




Programs, credential levels, technology, and scheduling options vary by school and are subject to change. Not all online programs are available to residents of all U.S. states. Administrative office: Argosy University, 601 South Lewis Street, Orange, CA 92868 © 2018 Argosy University. All rights reserved. Our email address is materialsreview@argosy.edu.




For gainful employment data please visit auprograms.info.




Some programs are not available in all states. To find out if your program is available in your state, please contact an admissions representative prior to enrollment.
Show more
Tell us about yourself so we can provide helpful info about this school